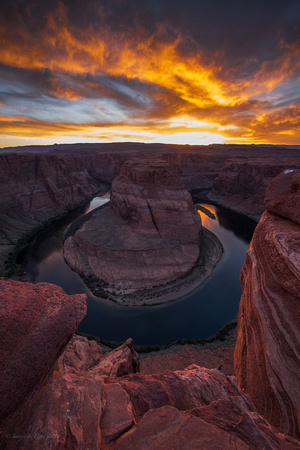 5D Mk III, EF 16-35 f/2.8L II,  f/14 for 1 sec at 16mm.
Lee 2 stop GND filter.
Larger Image
After getting back from my Utah/Arizona trip I
Googled Horse Shoe Bend
and to my surprise almost all the images that came up where shot in landscape mode, not the Portrait mode I saw while I visited precariously 1000 feet above the Colorado River, I'm thinking that most people want to get the cliffs on both the left and right sides of the canyon or want less sky (I was blessed with nice clouds) so I chose the above composition. 
I wanted some glow in the foreground rocks and tried to capture the fire in the sky, a Lee 6 inch graduated soft 2 stop neutral density filter held back almost enough of the light to not blow most of the sunset.
I came away from that one happy, it was kind of a last minuet decision to run down and shoot at Horse Shoe Bend as we where staying the night in Page. There must have been a couple dozen photographers perched on the edge of that drop that night, most had left by the time this scene had unfolded and the real color shown itself.
 Photog's at Horseshoe Bend
Ross